With the continuous development of the drying equipment industry, the use of dryers and other products has become increasingly widespread and has played a pivotal role in the pharmaceutical industry. At present, China's drying equipment industry is about to face a epoch-making development in the watershed, and the upgrading and transformation of related companies has become a hot trend.
At present, in the domestic sales of drying equipment, economical drying equipment accounts for about 50%, to meet the needs of the domestic market; universal drying equipment accounts for about 45%, to achieve large-scale production; advanced drying equipment accounts for about 5% , The variety greatly increased; the economical drying equipment reached the capacity of bulk export, the universal drying equipment gradually expanded exports, and the export of high-grade drying equipment achieved breakthroughs.
It is understood that according to the requirements of the "Special Program for Drying Equipment Development", by 2015, domestically-made drying equipment will account for more than 50% of the domestic market demand, fully equipped functional components, self-sufficiency rate of 60%, and system ownership with independent intellectual property rights 75% of the total output of dry equipment.
Realize the industrialization of key functional components and lay the foundation for the upgrade of drying equipment products; develop high-precision digital measuring instruments and tools for middle and high-grade drying equipment; implement advanced drying equipment demonstration projects to meet the needs of national key projects.
Enterprises must become the main body of technological innovation, should be connected with universities and scientific research units in various forms to make the resources be reasonably allocated and utilized, and effectively cultivate and develop the innovative capabilities of enterprises; also continue to reform and open policy, to be widely Introduce and absorb; new capabilities are not introduced, we must expand the combination of technology and trade, and accelerate independent innovation. Innovation, introduction, digestion, absorption, transformation, and independent innovation are all less.
Policy support is guaranteed, and relevant companies must seize the opportunity to make innovations and progress on the basis of the protection of relevant policies of government departments. Under the support of independent innovation and policies, enterprises must conform to the trend of the times and must adapt to market trends.
The development and progress of the drying equipment industry can not only promote the progress of the pharmaceutical machine industry, but also promote social progress to a certain extent. Therefore, it is of great significance to promote the advancement of drying equipment, and to promote the progress of drying equipment, it is necessary to increase the intensity of improvement and constant innovation.
We are the specialized and top manufacturers in China and We offer full set Seed Grain Processing Equipment solution. Whole Seed Processing Line is from Pre-cleaning, Fine cleaning, Destining, Gravityseparating, Beans polishing,Seed coating, Last seed weighing and packing.
The Seed Cleaning Plant is composed of several single machines. Base on different grain type and processing grain, we will suggest appropriate grain cleaning machines. These grain cleaning machines arecollocated freely. Between each machines, there are Bucket Elevator , Inclined Evator or other conveying equipment to link up.
Seed Cleaning & Processing Line has followingadvantages:
Easy to setup, machines easyto move and can be placed freely.
Save labor, there are middleconveyors to transfer grain from one machine to another.
Effective and low cost, singlemachines compose a seed processing line improve the working performance. Lowproduction cost makes it hot sale.
Above flexibility andconvenience makes Seed Cleaning & Processing Plant makes it becoming hot sales item.
Seed Cleaning & Processing Plant installationeffect and introduction.
This Seed Cleaning & Processing Plant iscomposed of 5XZC-5DX Seed Cleaner & Grader, 5XZ-5 Gravity Separator, QSC-5 Gravity Destoner ,DTY Bucket Elevator, Beans Polishing Machine, HLD-50 Bagging Scale System.
Working flow: The seeds arefed into 5XZC-5DX Seed Cleaner &grader first. Seed cleaner & grader will remove the dust, lightimpurity, oversize and undersize impurity before seed flow into 5XZ-5 gravity separator. During seeds cleaned by Gravity Separator, the seeds are separated by density difference. Thepartially eaten seeds, immature seeds, insect damaged seed, sick seeds, moldyseeds are separated from good healthy seeds. Then seeds go on being lifted by DTY Bucket Elevator, Use the QSC-5 Gravity Destoner remove the stone,Sand and clods.The Go to Beans Polishing Machine polish the dust and other impurities of Beans to Shiny and bright.Finally seeds being transferred to Weighing Scale . Seeds will be weightedand packed to bags ready for sell.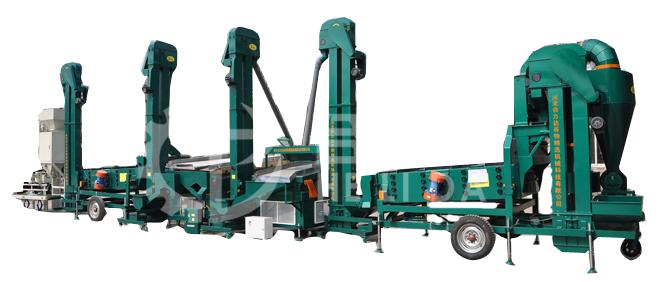 Beans Processing Plant
Beans Processing Plant,Bean Cleaning Machine,Beans Processing Machine
Hebei HELIDA Grain Selecting Machinery Technology Co., Ltd. , http://www.grainseedscleaner.com