People who are concerned about the smart home industry can find that in recent years, there are several or more smart home product brands almost every year. Counting down, there are no fewer than hundreds of brands in big and small, it is the future prospect of the market. The beautiful ambiguity has caused people to continue to invest in it. In general, from the perspective of the origin of enterprises, smart home enterprises can be roughly divided into the following types:
1. A company with a technical background or related intellectual property rights has a relatively high technical content of smart home related products. Enterprises with a technical background are typical, especially those with relevant intellectual property rights in a certain technical field, such as PLC. Technologies such as KNX, Zigbee, or proprietary interface protocols. Most of these companies are mainly created by technicians, but they are relatively weak in terms of vitality. The main reasons are:
1) Neglecting the market: Without a good market positioning, most technology-based enterprises are blindly seeking the market to popularize, but they ignore the fact that there is still a certain distance between the industry and the popularization of the industry in the current era;
2) Excessive focus: focus on and even exaggerate one's own technical achievements, and ignore the open trend of the Internet of Things industry with the purpose of coexistence and commonality;
3) Ignore design: The product shape design is relatively rough. After all, this belongs to the category of consumer electronics. Nowadays, brands such as Apple in the United States make consumers more and more critical about the appearance of electronic products, and it is a trend to cater to consumer demand.
Therefore, in terms of living conditions, for these various reasons, companies that start a business with a certain technical background are particularly prone to failure, and some even invest a lot, but even the products have not been fully released, and there is no end to it; of course, among such enterprises It is also easy to survive with the support of capital or policy hospitality, but it is definitely a minority, and in the long run, it faces various challenges including the above points.
2. Enterprises with manufacturing background and product development capabilities China is the world's processing factory, especially in the electronics industry. Almost all of the well-known Apple products are produced by mainland manufacturers led by Taiwanese, and so are smart home products. Many of the world-class smart home brands are also made by MadeinChina. This is a good thing. After all, high-end technology and production processes are almost in the hands of the first world countries, and they have the opportunity to start from the OEM. It is also a good choice. It seems to be an industry rule. Just like Japan used to be an electronics manufacturing factory in Western countries, it now produces many well-known world brands. Some domestic companies are providing OEM (OEM) and even design (ODM) for world brands. Based on this experience, they have accumulated experience in product development and manufacturing. Based on this, they strive to develop and find suitable for China. After the product positioning of the market, the smart home brand was established for marketing in China. Because of its relatively mature technology and stable quality, it has gained certain recognition in the domestic market, and even its own brand can go abroad and advance into the world market.
3. Smart home enterprises that have been transformed from related industries have a wide range of smart home industries, which has caused many traditional enterprises involved to continue to receive attention. Therefore, there are many enterprises that have entered the smart home industry from related industries. Most of them are well-known large and medium-sized enterprises. They have the ability and ability to invest a large amount of manpower and resources in the system design and product development of smart home products, and even the cooperation between manufacturers to establish communication protocols and other technical agreements. Traditional companies involved in the smart home industry:
1) IT enterprises: computers, communication products, consumer electronics and other industries 2) home appliance enterprises: air conditioners, refrigerators, washing machines and other industries 3) intelligent construction enterprises: BA, security, lighting, conference systems and other industries 4) system integration enterprises: weak electricity, Relevant industries such as intelligent system integration and even some real estate or tourism industries will participate. These enterprises have a typical characteristic: they have capital and resources. Even if the products launched by the huge investment do not have much market in the short term, it does not matter, it is nothing more than a brand promotion. Such enterprises are often more mature enterprises. Although the concept of smart home is attractive, it has not formed in the market. Before, they would never immediately take this as their main business, just an irrelevant test of water.
In summary, in general, because the scale of the domestic smart home market has not yet broken out, there is currently no big brand that focuses on this industry. However, there are still many brands on the road of striving for this goal. I wish They are able to adapt to the changing times of the times and seize the opportunity to become a pioneer in the success of China's smart home industry.
SME high pressure pumps are suitable for heavy duty applications where require a higher head per stage or higher pressure.
They are mainly used for long distance transportation or other applications where more than one pump is required.
| | |
| --- | --- |
| Pump Range | 1-inch to 6-inch |
| Capacity | up to 1008m3/h |
| Total Discharge Head | up to 118m |
Material available: high chrome alloy A05
Hi Pressure Slurry Pump Construction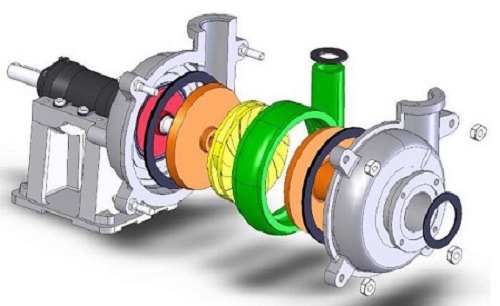 Configuration Type

High-Pressure Slurry Pump,High Head Slurry Pump,Sand Blender Slurry Pump,Tunnelling Slurry Pumps
Shijiazhuang Minerals Equipment Co., Ltd , http://www.smepump.com